Ninna-ji Temple Reiho-kan
Highlight

The principle image carved from a single piece of wood in the Kamakura period sits in a gesture of meditation and is known as the oldest of its kind
An ancient temple with distinguished treasures
Based on the aspiration of Emperor Koko, Emperor Uda founded this temple in 888 and became the first abbot, with Imperial family members taking the post of abbot right through to 1867, in the monzeki temple system, where a member of the Imperial family runs the temple. At present, the temple is the headquarters of the Omuro school of the Shingon sect. In 1994, the temple was inscribed on the World Heritage List.
The garan, or large temple building, was lost to fire during the uproar of the Onin War in 1468, but the principle image of Amida Triad and other treasures were kept safe and have been passed on down to this present day. In 1646, the Edo shogunate rebuilt the garan, which stands today just as then. The temple also is fame for its cherry trees.
The Reiho-kan, or treasure hall, houses many documents and artworks in various fields, such as the principle image of the temple, calligraphy and craftworks as well as antiquities and ancient documents. This hall is opened to the public twice a year in spring and autumn.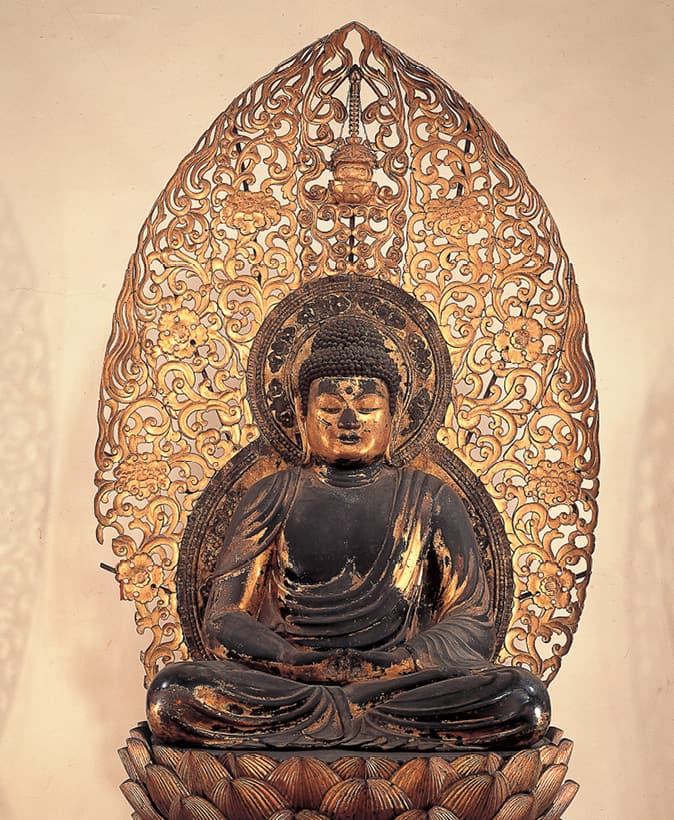 Part of an illustration of golden dragon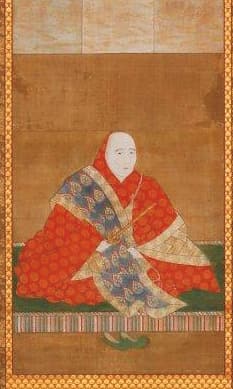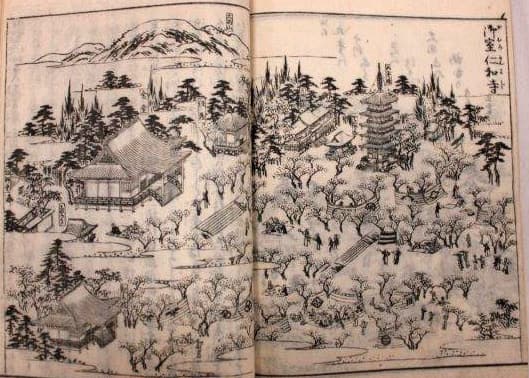 What is the name of the Buddhist image enshrined at the entrance to the Reiho-kan building?
| | |
| --- | --- |
| Address | 33 Omuro Ouchi, Ukyo-ku |
| TEL | 075-461-1155 |
| FAX | 075-464-4070 |
| URL | http://www.ninnaji.jp |
| Hours | 9:00~17:00 (entry by 16:30) from Apr~4th Sun of May and 1/10~23/11 |
| Closed | Open daily during open seasons |
| Adm | Adults ¥500, Junior high and high school students ¥300 |
| Access | A 2-min walk from Randen Omuro-Ninnaji Stn/Very close to Omuro-Ninnaji Stop of City Bus |
| Parking | Available (Charged) |