Matsumoto Myoukei Buddhist Sculpture Museum
Highlight

Delight in sculptures produced a traditional craft of exceptional expertise dating back to when Buddhism reached these shores
Buddhist sculpting dedicated to peace for everyone, whatever your nationality, race or religion
Opened in 2005, this museum showcases some 180 sculptures by Myoukei Matsumoto, thee Buddha sculptor of our times, who belongs to the famed Kei school of sculpting that has left the world Buddhist works dating back to the Kamakura period (1185-1333). It was the death of a trainee sculptor that truly set Myoukei on the path of fervent study in sculpting at the age of 17. And, with the guidance of caring mentors, he has trod the sculptor's path for some 56 years and now has 40 trainees, who he teaches as he continues his own sculpting career. Buddhist image makers, or busshi as they are known in Japanese, are neither priests nor artists, rather they are craftsmen imbued with faith who are destined to diligently make use of their skills in the world.
Visitors are drawn to this museum for the diverse range of Buddhist works, from tiny detailed works that can be admired on the palm of a hand through to those carved out of individual tree trunks and others gorgeously decorated in colorful kirikane metallic foils.
Completed in autumn 2017, the new display room is a magnificent space where visitors can view works in comforting surroundings. In addition, there are photos of 19 sculptures by successive generations of Kei-school sculptors, some gigantic – with the biggest standing a stunning 18.5 meters high – reposing in temples across the length and breadth of Japan. What is more, the museum also exhibits templates for the carving of sculptures.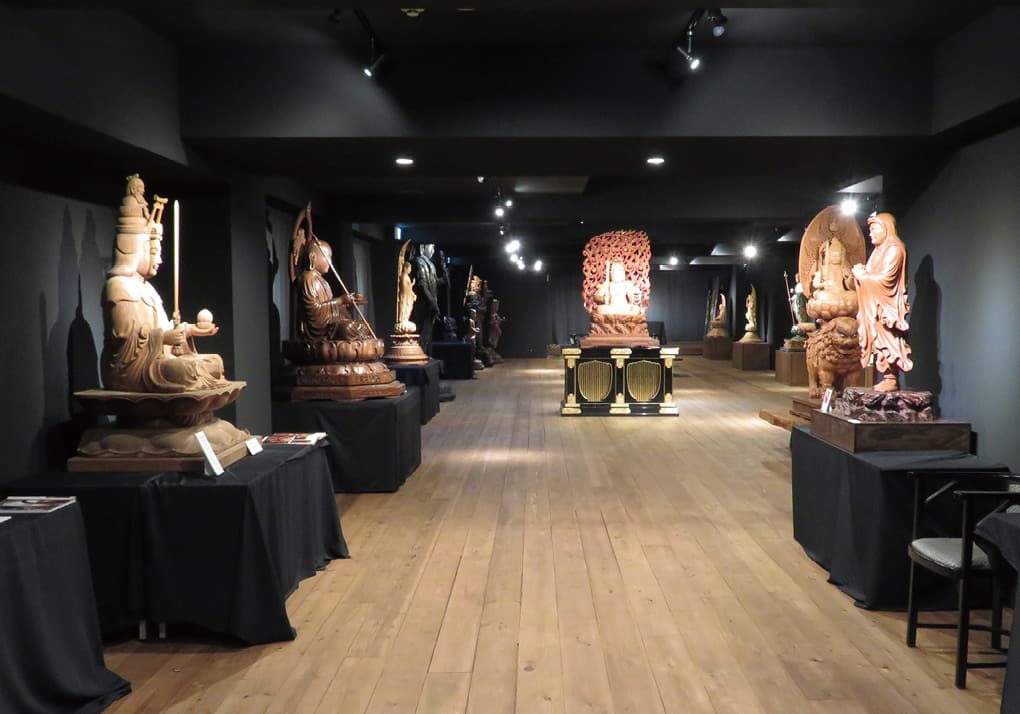 New exhibition room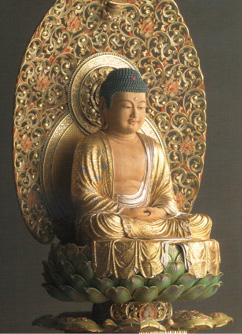 Statue of seated Shaka Nyorai (Made of Yakushima cedar in 2006, colorful kirikane)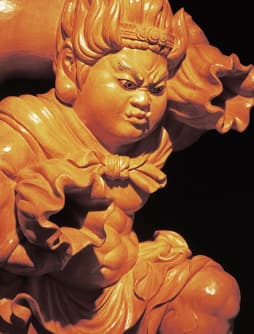 Fujin (god of the winds, Made of pine in 2015 to commemorate 400 years of the Rinpa School)

How many types of carving tools are used in Buddhist sculpting? ① 30 ② 100 ③ More than 200
| | |
| --- | --- |
| Address | 16 Nishi Takatsukasa-cho Shimochojamachi-dori Muromachinishi-iru, Kamigyo-ku |
| TEL | 075-332-7974(Matsumoto Studio) |
| FAX | 075-332-7974(Matsumoto Studio) |
| URL | http://m-myoukei.com/ |
| Hours | As a rule, only open on 1st and 3rd Sat and Sun of each month, 10:00~17:00 (entry by 16:30) ※If 1st day of month is Sun, open on 7th, 8th, 21st & 22nd (reservation required) |
| Closed | Closed on all other days |
| Adm | Free |
| Access | A 12-min walk from Exit 2 of the Subway Karasuma Line Marutamachi Stn/A 7-min walk from HorikawaShimochojamachi Stop of City Bus |