Old Mitsui Family Shimogamo Villa
Highlight

The 2nd floor of the main building is open to the public in autumn for room visits and viewing of the flaming colors outside from the vantage point of the 2nd floor.
Architectual Masterpiece of the Mitsui Family: Fine Example of a Classical Japanese-style Residence
Located to the south of Shimogamo Jinja Shrine, the villa was built by Hachiroemon Takemine, the 10th head of the Mitsui Kita Family (the head family of all the 11 Mitsui Families) as a retreat for all the Mitsu Families in 1925. The Mitsui's had already built the Akina Rei-sha Shrine for the worship of ancestors on this site but needed a place to stay when worshipping their ancestors, hence the villa was built. The main building was transferred from the Kiyamachi-Sanjo area of Kyoto, where it had been a villa also. The watchtower on the 3rd floor (not normally open to the public) offers dramatic views of the nearby Higashiyama mountains. The main building and other extensive residential structures and a teahouse from Meiji to Taisho eras (1868-1926) have been kept in wonderful condition and are highly valued as a fine example of large-scale classical Japanese residence. It was designated as an Important Cultural Property in 2011.
Since then, some four years have been spent renovating the villa and garden, with the revamped villa opened to the public from October 2016. Thus, visitors can now enjoy the spacious grounds (5,700m2), featuring classical architecture in modern Kyoto and a beautiful, mossy garden. Furthermore, the 2nd floor of the main building and a teahouse can be rented for functions. And, the villa periodically stages events, such as cultural lectures.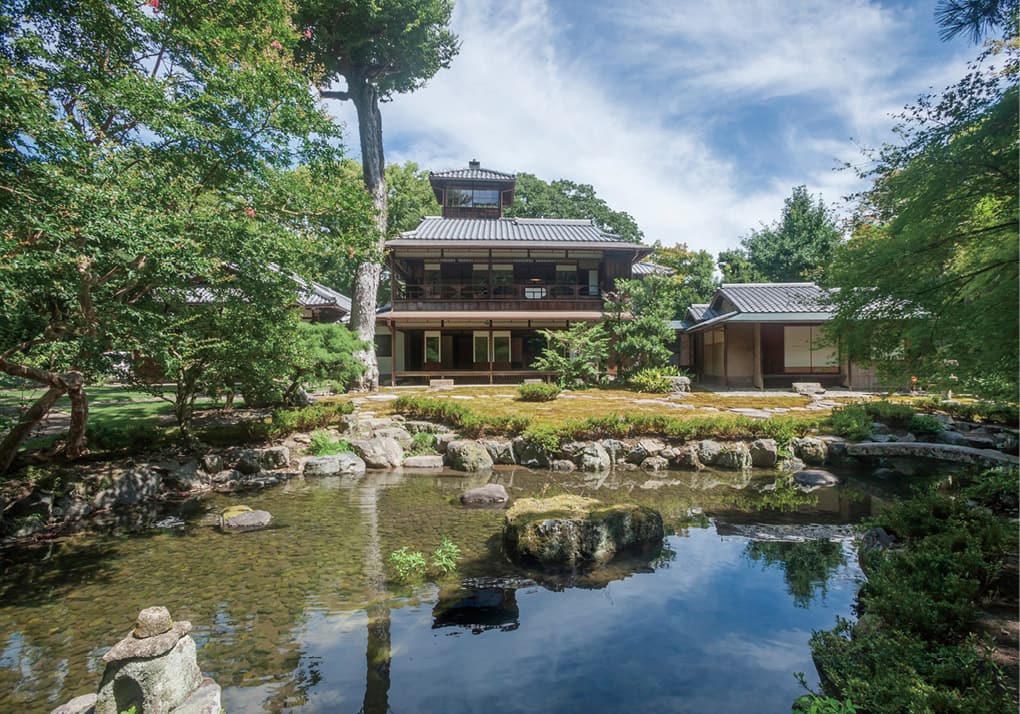 External view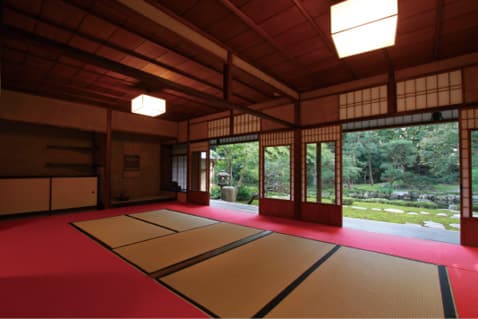 1st Floor Reception Room of the Main Building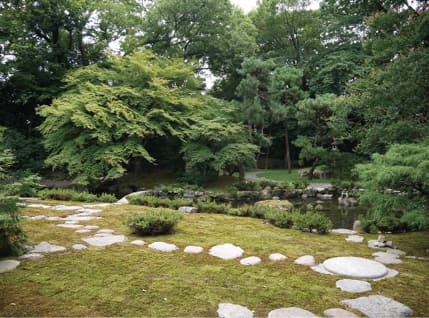 Main building's south garden

What lucky object was the template for the shape of the villa's pond?
| | |
| --- | --- |
| Address | 58-2 Shimogamo Miyagawa-cho, Sakyo-ku |
| TEL | 075-366-4321 |
| FAX | 075-708-8321 |
| URL | https://ja.kyoto.travel/tourism/article/mitsuike/ |
| Hours | 9:00 ~ 17:00(entry by 16:30) |
| Closed | Wed (following day if Nat Hol), 29-31/12 |
| Adm | Adults ¥410, Junior high and high school students ¥300, Elementary school students ¥200 |
| Access | A 5-min walk from Keihan and Eiden Demachiyanagi Stn/A 5-min walk from Aoibashi Nishizume Stop of City Bus/A 5-min walk from Demachiyanagieki-mae Stop of City Bus |