Gold Leaf Art Studio
Highlight

An example of the techniques used to work gold leaf into fabric – radiating color and motif
Traditional gold leaf technology and contemporary modern art
The name of "HAKUYA NOGUCHI" means Noguchi of a gold leaf workshop.
Since its founding 1877, NOGUCHI family had made materials for the Nishijin Kimono belt "OBI". It is the 4th generation now.
The job begins with paper which is made by fibers of Mitsumata tree which is also used for Japanese bills. Then gold, silver and platinum leaf are pasted by glue which is a sap of "URUSHI" tree.
And these paper turns like KINKAKUJI, or like a jewel. Then it is cut and it becomes a thin horizontal thread, and is woven into the OBI. Five to seven gold papers are woven into one long OBI, so these paper are required to have continuity of color, pattern and reflection.
The townhouse called "MACHIYA" and the garden built in the middle of the Meiji era (A.D. 1890) are also attractive.
And Noguchi made a discovery about the gold leaf which was put on the picture of the Iris by OGATA KORIN. It can be seen on the back side of Japan's 5,000 yen bill. Visitors will be able to enjoy those stories.
Noguchi and his son 5th generation produced completely new picture "HAKUGA" by traditional technology using gold, silver and platinum leaf.
These are exhibited and it is available for purchase.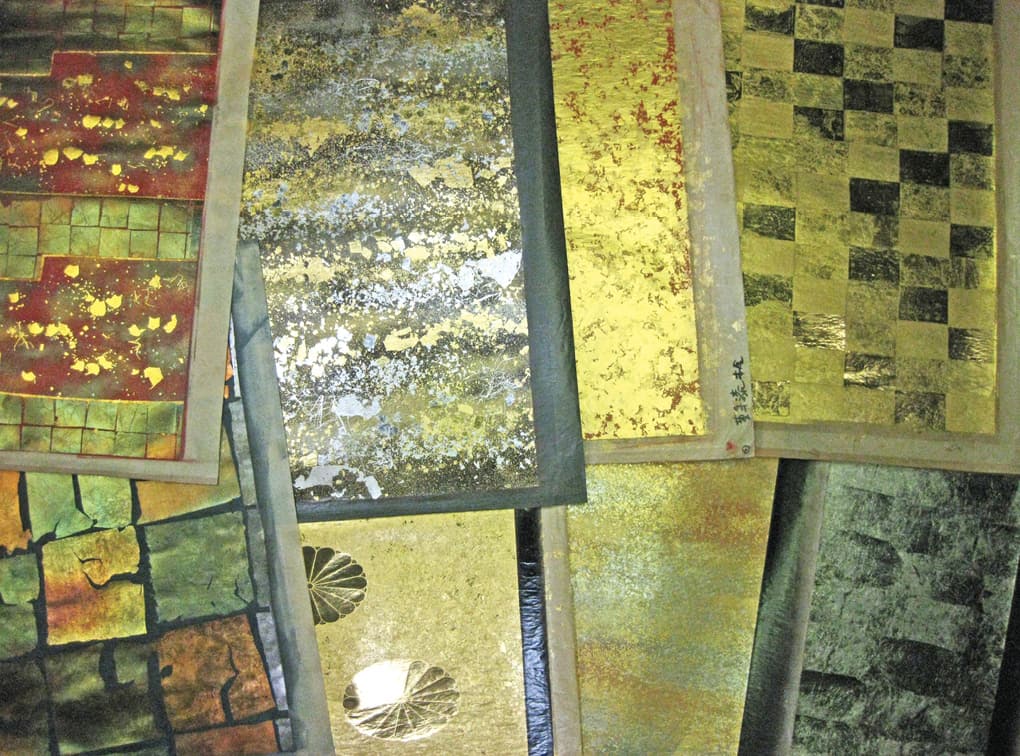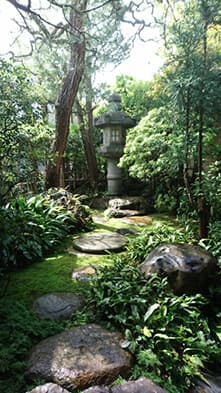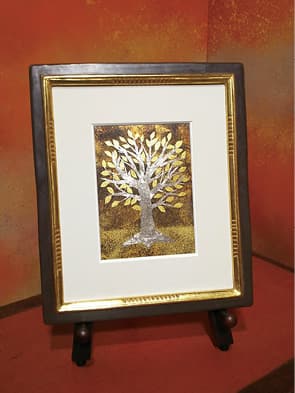 How thin can gold leaf be made?
| | |
| --- | --- |
| Address | 546 Motomyorenji-cho Motoseiganji-dori Omiya-nishi-iru, Kamigyo-ku |
| TEL | 075-415-1150 |
| FAX | 075-414-3434 |
| Hours | 10:00 - 16:30 (reservation required) |
| Closed | Irregular hols |
| Adm | Viewing free, Talk on gold leaf (approx 50 mins, reservation required) ¥5,000 for up to 5 people (¥1,000 per extra person above 5 people) |
| Access | A 4-min walk from Imadegawa-Omiya Stop of City Bus/A 5-min walk from Horikawa-Imadegawa Stop of City Bus |