Jakko-in Temple Hochisho-den (Treasure Hall)
Highlight

Relics once stored inside the standing statue of Ksitigarbha, the temple's former principal image (important cultural asset)
The world of Heike handed down by Empress Dowager Kenrei
It is said that Jakko-in was built in 594 by Shotoku Taishi before the capital was moved to Kyoto to mourn the death of his father Emperor Yomei.
Jakko-in became synonymous with the Tale of the Heike because it became a refuge for the toppled Heike family, with the daughter of a previous Heike leader and mother of Emperor Antoku, Kenreimonin Tokuko (the Empress Dowager Kenrei), entering cloistered life in this temple, where she spent her days praying for the repose of the souls of her family and the rest of the obliterated Heike clan. In 1186, she was visited by the cloistered Emperor Goshirakawa, and this meeting is depicted in the final volume of the Tale of the Heike.
In 2000, the main temple hall burned down, and the principal Buddhist image (a statue certified as an important cultural asset in 1986 and now referred to as the former principal image) also was badly burned, but, as the relics sealed inside the statue survived intact, the principal image maintains its status as an important cultural asset, and is put on display to the public on special occasions, even to this day.
To commemorate the restoration of the main hall, the treasure hall Hochisho-den was built in 2006. Here, many of the temple treasures can be seen, including some of the relics that were sealed in the former image, a manuscript of the Tale of the Heike and the Ohara Goko picture scroll.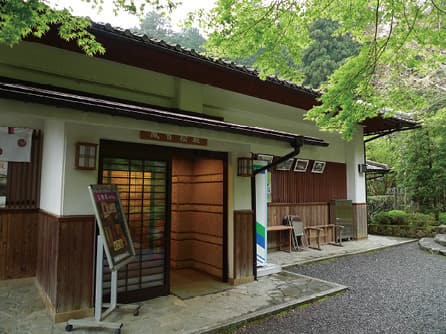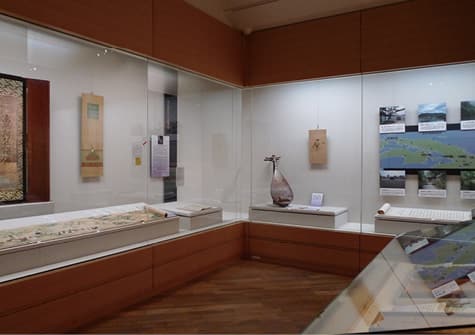 How many ancient coins were sealed inside the former principal image?
| | |
| --- | --- |
| Address | 676 Ohara Kusao-cho, Sakyo-ku |
| TEL | 075-744-3341 |
| FAX | 075-744-2100 |
| URL | http://www.jakkoin.jp/houmotsuden.html |
| Hours | 9:00 ~ 17:00 (16:30 between Dec and Feb, 10:00~16:00 during 1st, 2nd 3rd of Jan) |
| Closed | Open all year round |
| Adm | Adults: ¥600, Junior high school students: ¥350, Elementary school students: ¥100 |
| Access | A 15-min walk from Ohara Stop of Kyoto Bus |