Kyoto City Museum of Art (Kyoto City KYOCERA Museum of Art)
Highlight

Blending Japanese, Western, contemporary and modern architecture, this photogenic museum is a must-visit spot for permanent exhibits and modern art exhibitions.
Renewed bastion of Japanese art, including famed works from Kyoto Gadan and others
Built in the teikan style (imperial crown style where East meets West architecturally), with the crown being an impressive copper roof traditional to Japan and a handsomely tiled exterior, this museum always caught the eye but is set to be reborn with even greater appeal in a renewal project by the architects Jun Aoki and Tetsuo Nishizawa (scheduled for completion in at the end of March 2020).
Designed back in 1933 by Kenjiro Maeda, from the outset the museum was hailed as an innovative example of modern architecture, and, now, it will be complimented by the addition of the new "Higashiyama Cube" hall and underground space below the main hall lined with café shop and gallery. Moreover, a glass roof will be placed over the north inner garden to create a plaza of light for events and other activities, while the central hall will be converted to make a setting conducive to relaxing in. In this way, visitors will be able to view the museum's special features and Japanese garden designed by Jihei Ogawa at their leisure, free of charge.
The collection – one of the finest in the country - extends to 4,000 pieces, cored around artists active in the Kyoto Gadan school, such as Seiho Takeuchi, Shoen Uemura and Keigetsu Kikuchi et al. And, after the renewal, the permanent collection will be refreshed, to further enhance the allure of the works that came out of the Kyoto Gadan school, while also introducing visitors to the eclectic range of cultural art, such as modern art, manga and animation, in the new hall.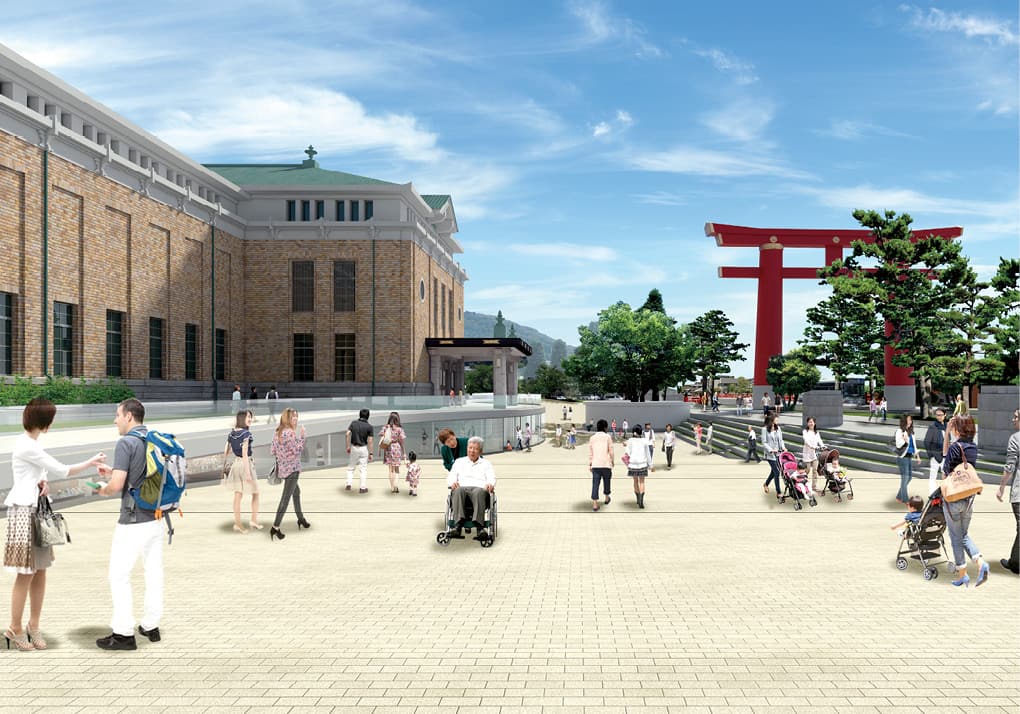 The plaza can be used to stage various events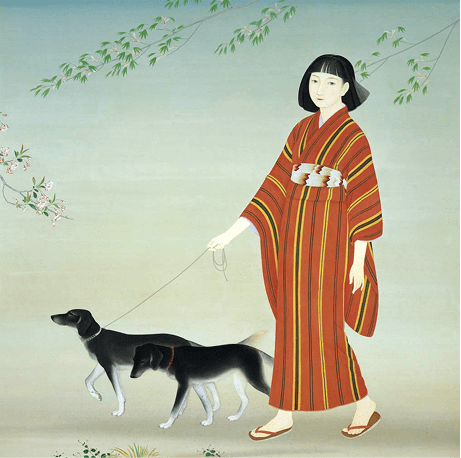 Sansaku(A Walk)by Keigetsu Kikuchi
| | |
| --- | --- |
| Address | 124 Okazaki Enshoji-cho, Sakyo-ku |
| TEL | 075-771-4107 |
| FAX | 075-761-0444 |
| URL | http://www.city.kyoto.jp/bunshi/kmma |
| Hours | 9:00~17:00 (entry by 16:30) ※10:00~18:00 after renewal |
| Closed | Mon (following day if Nat Hol), 28/12~2/1 ※Only the annex is open at present (main gallery closed for renovation) |
| Adm | Varies depending on the exhibition |
| Access | A 10-min walk from Exit 1 of the Subway Tozai Line Higashiyama Stn/ Very close to Okazakikoen Bijutsukan/ Heianjingu-mae Stop of City Bus/A 5-min walk from Okazakikoen ROHM Theater/Miyakomesse-mae Stop of City Bus |