Chishaku-in Temple Treasure House and Garden
Highlight

The splendidness of a vividly depicted trunk of a maple shares the canvas with delicately portrayed autumn grasses in this screen painting
A temple where the arts of the Momoyama period can be feasted upon
This was founded as a sub temple of Negoroji (that existed in Wakayama). In later years, Ieyasu Tokugawa eventually donated another temple (Shounzen-ji Temple, built in memory of Tsurumatsu, the son of Hideyoshi, who died aged three) to the monks of Chishaku-in, so that it was rebuilt on its present site.
The treasure house is home to National Treasures painted on folding screens and sliding doors by artists of the Tohaku Hasegawa school of painting. They were painted for the original temple on this site, Shounzen-ji Temple, and thus they are gorgeous works of art, typical of the Momoyama period.
A pond spreads out in front of the main room surrounded by a beautiful garden noted for its azaleas. The garden is famous for being popular with Sen no Rikyu, the tea master. Rocks also are used to decorate the garden in simulation of a remote mountain vista. This is a garden to be enjoyed from the vantage point of the main room. And, part of the garden dates back to when the site belonged to Shounzen-ji Temple.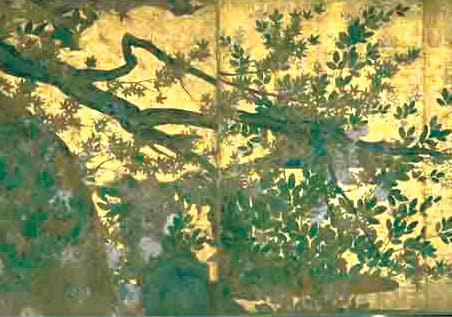 Part of painting by Tohaku Hasegawa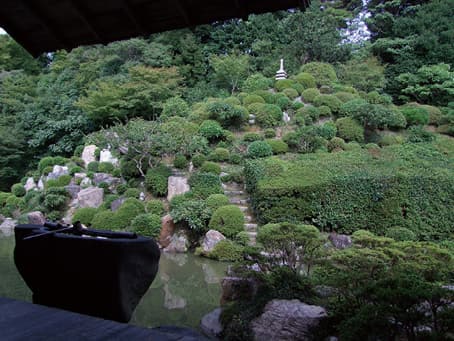 Famed garden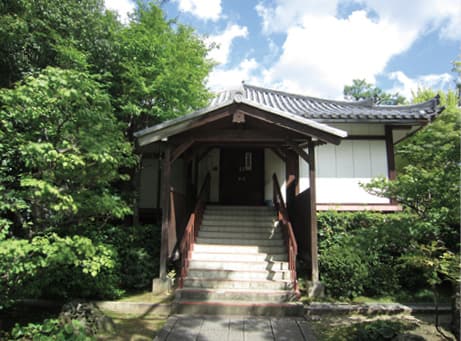 Address
964 Higashikawara-cho Higashioji-dori Shichijo-sagaru, Higashiyama-ku
TEL

075-541-5361

FAX
075-541-5364
URL
https://chisan.or.jp/worship/artifact/
Hours
9:00 ~ 16:30(entry by 16:00)
Closed
29/12~31/12
Adm
Treasure House/ Garden: Adults ¥500, Junior high and high school students ¥300, Elementary school students ¥200
Scenic Garden/ General :Adults¥300, Junior high and high school students ¥200,Elementary school student ¥100
Access
A 10-min walk from Keihan Shichijo Stn/Very close to Higashiyama-Shichijo Stop of City Bus