Kyoto Prefectural Insho-Domoto Museum of Fine Arts
Highlight

A Domoto painting "Landscape of Fukakusa" on right was the first to be accepted by Teiten (Imperial Exhibition)
An artist of protean expression
As one of the main members of the Kyoto Gadan school, Insho Domoto was active for a large part of the 20th century, finally building this museum to house his works in 1966, in his twilight years. Both the exterior and interior were designed by Domoto to his own unconventional tastes, which included creating the building's façade in the image of a ship decorated with a bold relief motif. In 2018, the museum was reopened after the reliefs on the exterior walls were refurbished and the entrance area remodeled to create greater freedom for the first time in 50 years.
The museum exhibits Domoto's work spanning his artistic lifetime of some 60 years, with his Gadan debut work "Landscape of Fukakusa" (1919), "Aru-Kazoku" (1949) and "Gedatsu-kishi" (1967). During those years, he refused to be pigeonholed in one style, changing at will to express himself in new ways. Seeing those protean canvases side by side in the museum gives an extremely fascinating insight into the artist.
The collection amounts to some 2,600 pieces, ranging from traditional Japanese paintings to abstract works, and also including western paintings, sculptures, ceramics, dyed fabrics and industrial art. To show them all, they are regularly rotated in themed exhibitions. In addition, once a year, a special exhibition is held to introduce the works of an artist with some kind of connection to Domoto.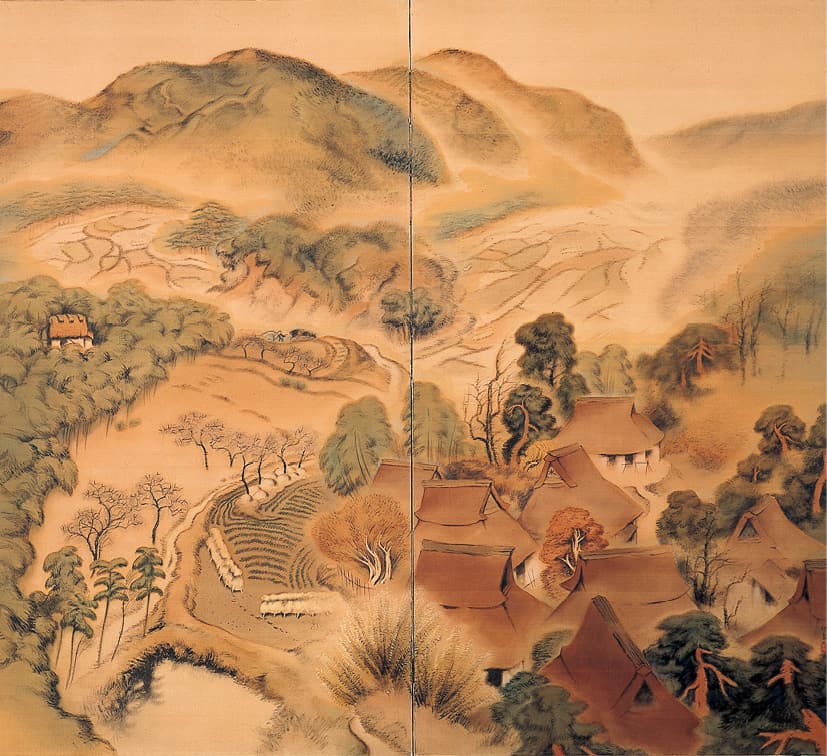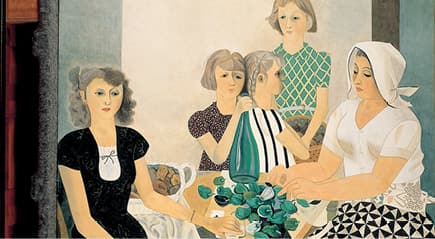 Part of the picture "A Family"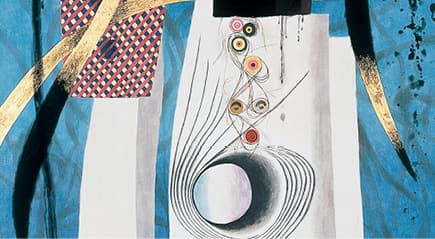 Part of the picture "Bourdary of Deliverance"

What is the name of the street (running from Kinkaku-ji Temple to Ninna-ji Temple) that the museum is on?
| | |
| --- | --- |
| Address | 26-3 Hirano Kamiyanagi-cho, Kita-ku |
| TEL | 075-463-0007 |
| FAX | 075-465-3099 |
| URL | https://insho-domoto.com |
| Hours | 9:30 ~ 17:00(entry by 16:30) |
| Closed | Mon (following day if Nat Hol), 28/12-4/1 |
| Adm | Adults ¥500, High school and college students ¥400, Elementary and junior high school students ¥200 |
| Access | Very close to Ritsumeikan-Daigaku-mae Stop of City Bus |