Miyake Hachiman Shrine – Ema Museum
Highlight

The names of all the people who visited in groups are on their ema amulets
Ema amulets offered with prayers to cure children's tantrums
Ono no Imoko (envoy who delivered famous letter to Sui court in China in 607) moved to Kamitakano (the area where the shrine would be built) and is said to have a connection to the origins of this shrine. And, according to local folklore, the enshrined deity (Hachiman) was originally a protection against agricultural pests (insects), but eventually became a deity to rid children of "the bug" (convulsions and tantrums), earning the shrine the common title of "Mushi Hachiman" (bug god).
At first, the custom was for families to make pilgrimages to the shrine in order to pray to the deity to ward off children's convulsions, but, with time, this custom turned into one where whole groups of children were brought to pray. And, scenes of those groups depicted in detail on large ema amulets (votive horse tablets) are displayed in the shrine's ema museum. There are 124 amulets from the end of the Edo shogunate to the early Showa period (all designated as Nationally Important Tangible Folk-cultural Properties) held at the shrine, of which 60 pieces are on display.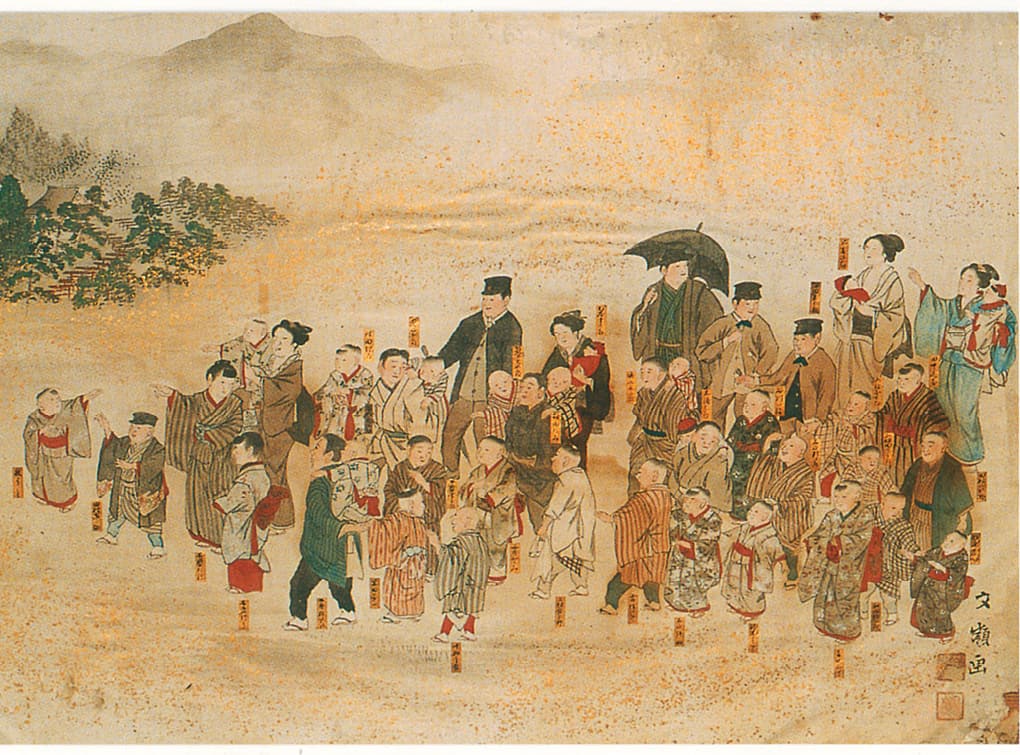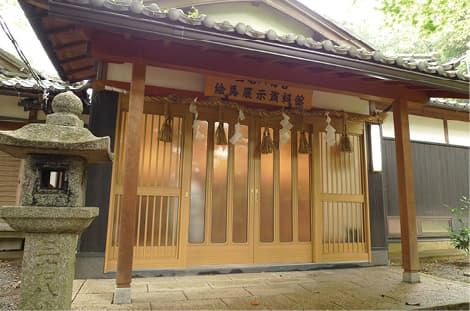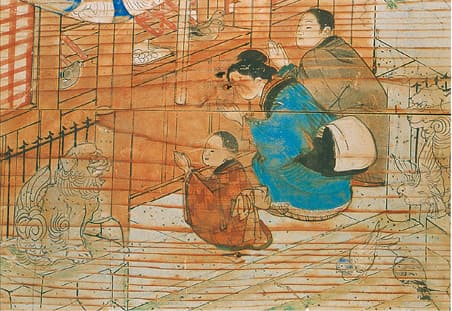 How many people are depicted in the ema amulet filled with the biggest crowd of people?
| | |
| --- | --- |
| Address | 22 Kamitakano Miyake-cho, Sakyo-ku |
| TEL | 075-781-5003 |
| FAX | 075-781-5003 |
| URL | http://www.miyake-hachiman.com/ |
| Hours | 10:00 ~ 15:00(entry by 14:30) |
| Closed | Open daily |
| Adm | ¥300 |
| Access | A 3-min walk from Eiden Kurama Line Hachiman-mae Stn/Very close to Hachiman-mae Stop of Kyoto Bus |
| Parking | Available (Free)) |