Senbon Shaka-do (Daiho-on-ji Temple) – Reihoden
Highlight

One of the sculptures among many that can be enjoyed at close quarters
An amazing collection of Buddhist images by the Kei school
"Senbon" distinguishes the temple from Seiryo-ji's Shaka-do in Saga. Founded in 1221, only the main hall (built in 1227 in the style of shinden-zukuri, Heian palatial architecture) survived the destruction of the Onin War and is now a National Treasure. It is said that this building is the oldest wooden structure in Kyoto. Even today, it bears the scars of spears and swords from that warring. The principle Buddha image is said to have been carved by the monk Gyokai.
The Reiho-den hall holds many treasures, with the statue of Senju Kannon (Important Cultural Property) believed to be older than the actual temple. The Six Forms of Avalokitesvara Bodhisattva on display were carved by Jokei in the Kamakura period. And, one statue carries the name Higo Betto Jokei, a pupil of the great sculptor Kokei. There are statues of the Ten Great Disciples of Buddha (all Important Cultural Properties) carved by Kaikei. Documents found in one of the ten statues are dated 1218, while on the right foot the ink-written name of Kosho (skilled artisan) Hogen Kaikei has been found.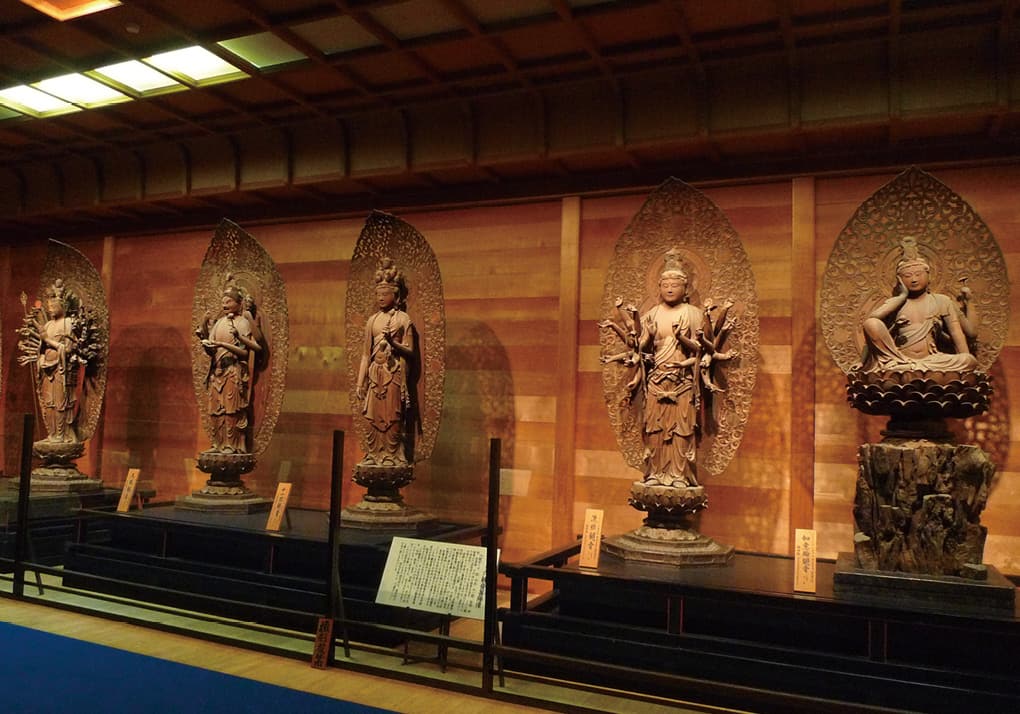 Six Forms of Avalokitesvara Bodhisattva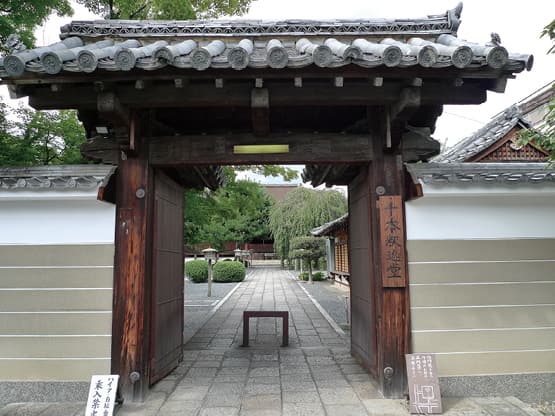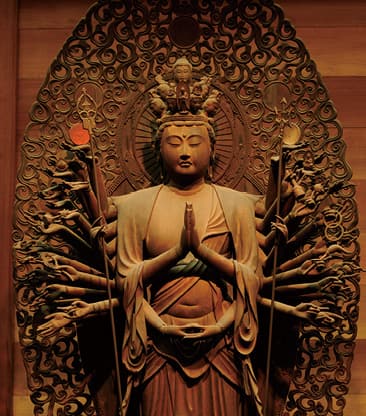 What food is served up at the temple in winter to keep colds at bay?
| | |
| --- | --- |
| Address | 1034 Mizomae-cho Itsutusji-dori Rokkencho-nishi-iru, Kamigyo-ku |
| TEL | 075-461-5973 |
| FAX | 075-461-5974 |
| Hours | 9:00 ~ 17:00(entry by 16:30) |
| Closed | Open daily |
| Adm | Main temple and Reiho-do: Adults ¥600, High school and college students ¥500, Elementary and junior high school students ¥400 |
| Access | A 3-min walk from Kamishichiken Stop of City Bus/An 8-min walk from Senbon-Imadegawa Stop of City Bus |
| Parking | Available (Free) |