Kyoto Kacho-kan
Highlight

Galleries full of beautifully and expressively detailed birds and flowers pervading an atmosphere of elegance
A soothing space deluged with flowers and birds
The main theme of this museum is flowers and birds. And, in it is home to several buildings, with the nishi-kan, or west gallery, housing famous pieces of antique Meissen porcelain and the higashi-kan, or east gallery, displaying the flower and bird paintings of one of Japan's most noted naturalist masters, Atsushi Uemura. Both these Meissen pieces and Uemura paintings are precious treasures passionately collected over many years by the husband-and-wife director team of the museum.
Made for royalty and titled nobility, the antique Meissen (1700s to 1800s) white porcelain pieces feature flowers and birds in their decorations. This collection is truly rare even in worldwide terms.
Meanwhile, the other collection of flowers and birds are the paintings of Atsushi Uemura, a third-generation Uemura following in the footsteps of his grandmother Shoen Uemura and his father Shoukou Uemura, both giants of Japanese painting. A notable feature of Atsushi's work is that he used pet birds kept in the garden at home as subjects to make his work extremely realistic but, however, at the same time, somehow imbued with brilliant poetical sentiment.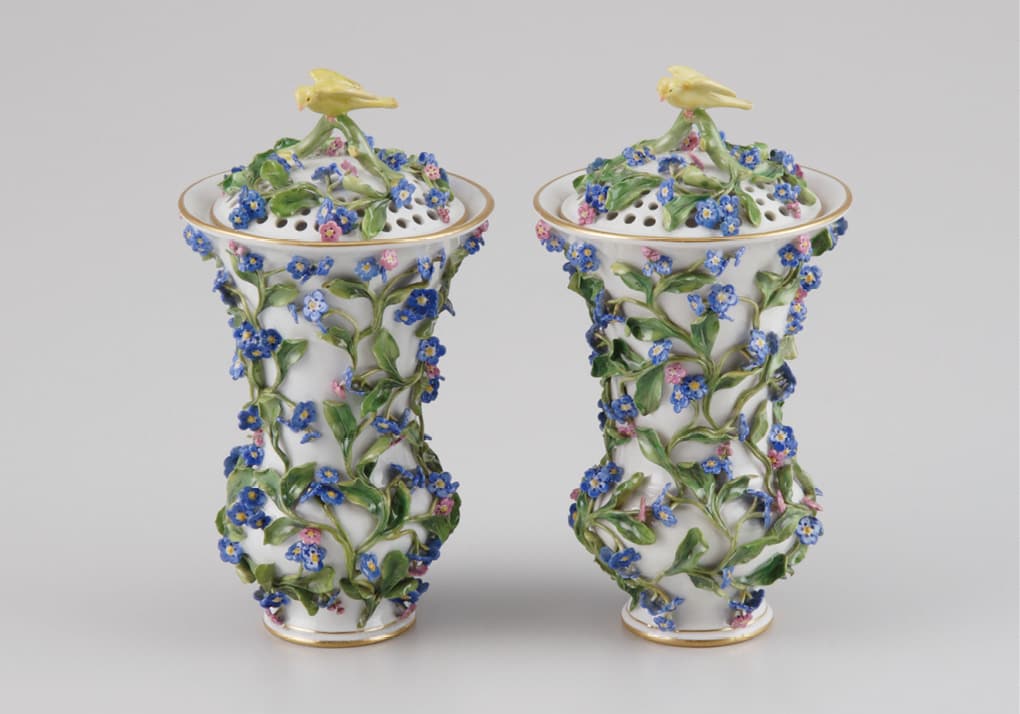 Meissen Potpourri pots decorated in forget-me-not and birds (around 1880)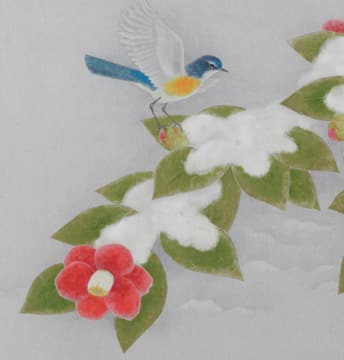 Part of a snow camellia painting by Atsushi Uemura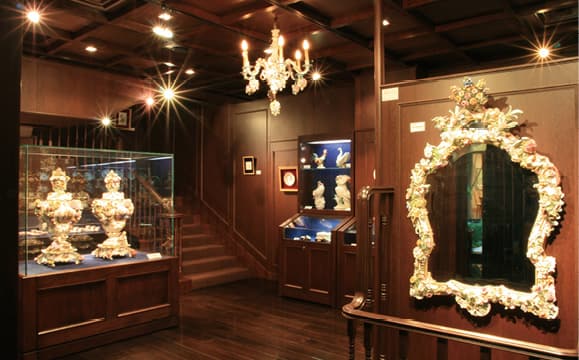 What is the name of the painting by master artist Atsushi Uemura that became the motif for a Kabuki drop curtain?
| | |
| --- | --- |
| Address | 26-24 Matsumuro Yamazoe-cho, Nishikyo-ku |
| TEL | 075-382-1301 |
| FAX | 075-382-1301 |
| URL | http://www.kachokan.jp |
| Hours | 10:00 ~ 17:00(entry by 16:30) |
| Closed | Mon (following day if Nat Hol) |
| Adm | Adults ¥1,500, Junior high school to college students ¥1,200 |
| Access | An 8-min walk from Hankyu Matsuo Taisha Stn/A 3-min walk from Matsumuro Kitakawara-cho Stop of City Bus |
| Parking | Available (Free) |