Yoshimine-dera Temple – Monju-ji Hokan
Highlight

With grounds occupying almost an entire mountain, this temple is blessed with the beauties of the four seasons
Treasures that let the visitor rediscover Japanese culture
This is an ancient temple founded back in 1029 by the monk Gesan who was a leading disciple of Eshin Sozu, a monk famed for Pure Land Buddhism. Alas, the temple fell into decline during the Onin War (1467~1477), but it was rebuilt in 1692 by Keishoin, the real mother of Tsunayoshi Tokugawa, the 5th Tokugawa shogun in the Edo period.
The temple's treasure house (Monju-ji Hokan) holds a collection of some 1,200 pieces including sculptures, paintings, crafts and dyed fabrics and ancient documents. Of these, some are Buddhist images like the carved standing statue of Fudo Myoo (Acalanatha) and the carved standing statue of Sho Kannon as well as paintings like that of Daigensui Myoo (Atavaka) and Senju Kannon (Thousand-armed Kannon) and 28 attendants.
Also, there are many fine exhibits related to Keishoin and Tsunayoshi Tokugawa. These are arts and crafts made with the finest of skills and include pieces of metalwork, lacquered furnishings, dyed fabrics, ceramics and glass ware - cultural assets representing the Genroku era in the Edo period.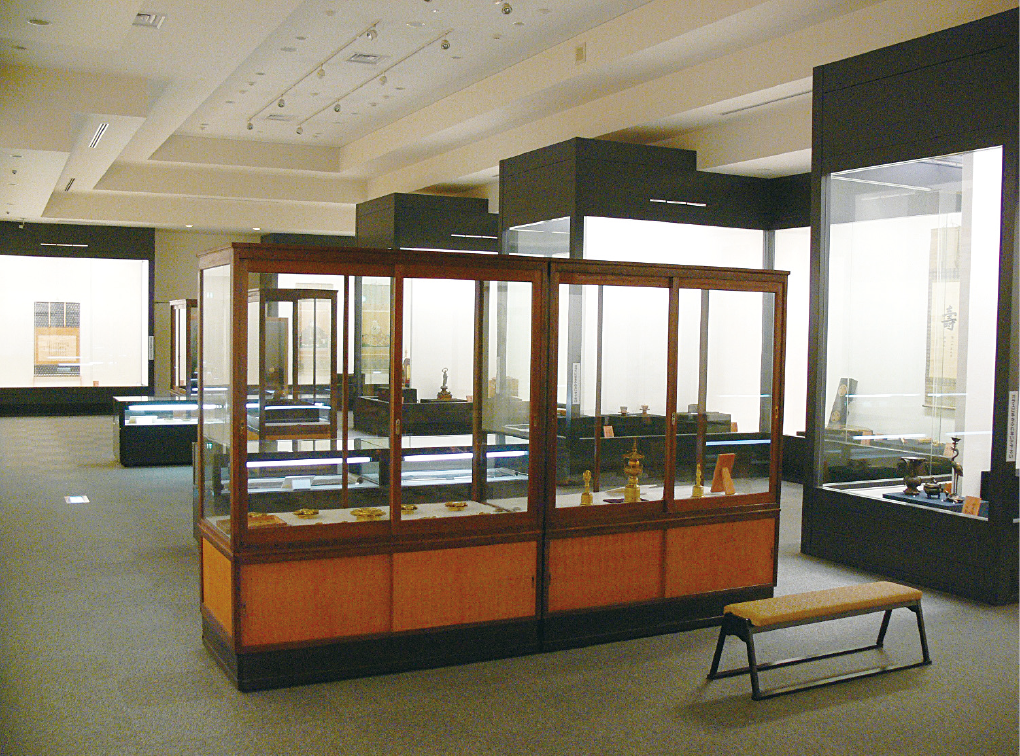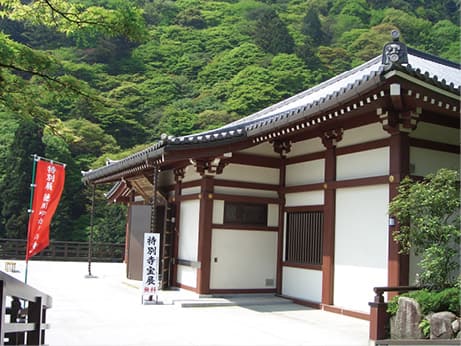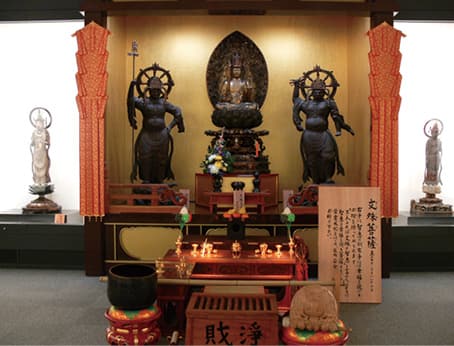 Which Buddhist painting is listed as an Important Cultural Property?
| | |
| --- | --- |
| Address | 1372 Oharano Oshio-cho, Nishikyo-ku |
| TEL | 075-331-0020 |
| FAX | 075-332-8342 |
| URL | http://www.yoshiminedera.com |
| Hours | 9:00~16:30 on Sat, Sun, Nat Hols for Apr, May, Jun, Oct, Nov (opening periods may change depending on year) |
| Closed | Open daily during open seasons |
| Adm | Admission to mountain: Adults ¥500, High school students ¥300, Elementary and junior high school students ¥200 |
| Access | An 8-min walk from Yoshimine-dera Stop of Hankyu Bus |
| Parking | Available (Charged)) |