Yatsuhashi-an and Embroidery House
Highlight

The Kyoto embroidery pictures draw gasps of admiration for their detail and beauty - while the vivid hues are obvious, the needlework acts as a magnet to the eye
Experience the culture of Japanese needlework and sweets
The theme here is to present Kyoto and the city's confectionary culture. Though unassuming, Kyoto does demand the best. And, Yatsuhashi strives to provide the handmade excellence that comes with wellversed confectioners and needle-andthread artists to introduce the worlds of sweets and embroidery. Refurbished in 2018, the museum is home to various cultural experiences that can be enjoyed by visitors, including the making of one of the Yatsuhashi delicacies or one of several other Japanese sweets of their choice. On the 1st floor, visitors may watch the production processes being undertaken to make Yatsuhashi sweets and make purchases of freshly made ones. On the 2nd floor, in the Embroidery House, the beauties of nature have been taken as the theme, with this gallery divided into four corners to display some 80 pieces of the finest detail and splendor, overwhelming the viewer with their sheer scale. So incredibly detailed is the needlework and the sheen so brilliant on the raised contours, that visitors forget that they are looking at embroidery.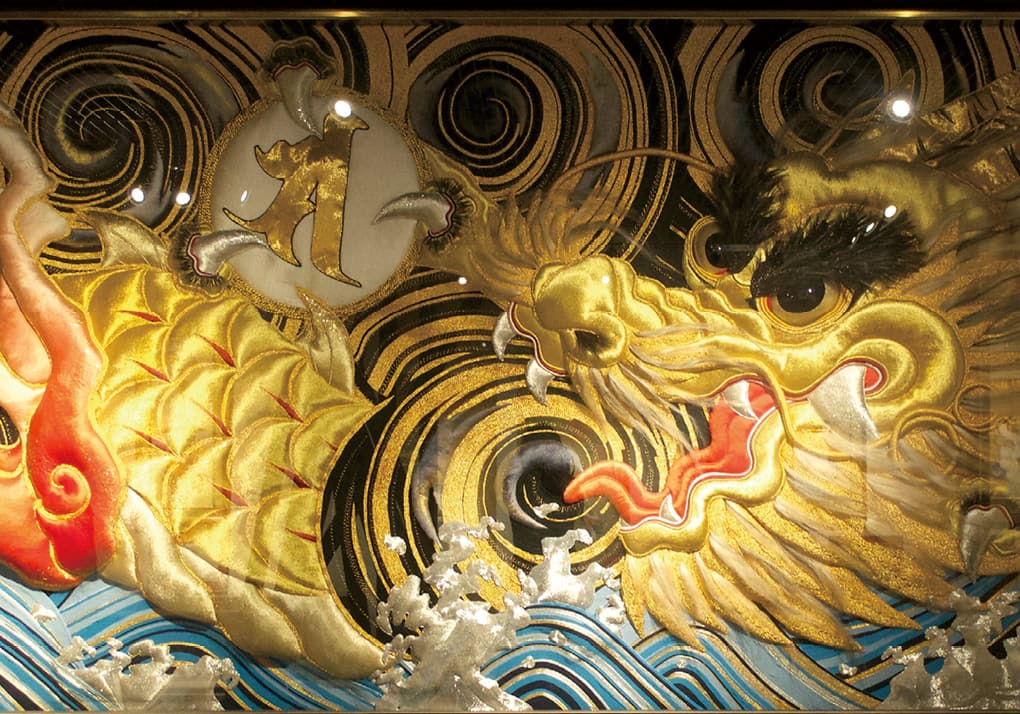 Part of an illustration of golden dragon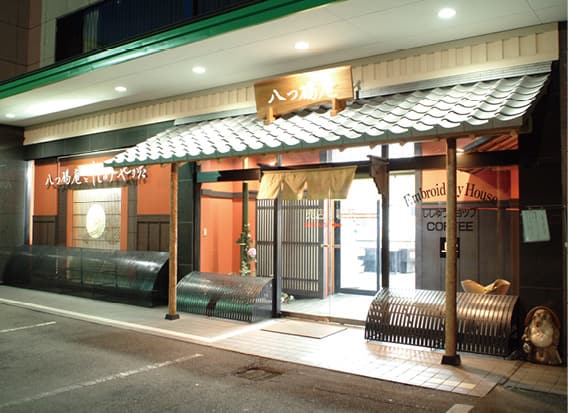 Who was the first person to make Yatsuhashi delicacies?
| | |
| --- | --- |
| Address | 36 Nishikyogoku Nishikoromode-cho, Ukyo-ku |
| TEL | 075-313-2151 |
| FAX | 075-311-9581 |
| URL | http://sisyu.yatuhasian.jp |
| Hours | 9:00 - 17:15 (entry by 16:45) |
| Closed | 26/12~31/12 |
| Adm | Free, Lessons (traditional experience) are charged and require reservation |
| Access | For people with lesson and/or dining reservations, there is a free shuttle bus service running from Hankyu Nishikyogoku Stn/A 20-min walk from Hankyu Nishikyogoku Stn/A 5-min walk from Nishikyogoku Umazuka-cho Stop and Nishikyogoku Stop of City Bus |